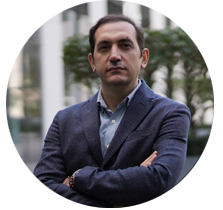 Erkan Terzi is a world-renowned marketing professional, with over 23 years of experience in the field of Marketing and Digital Interactive Solutions. He studied Digital Marketing Analysis at the prestigious Massachusetts Institute of Technology (MIT) Sloan School, and went on to complete his master's degree in Marketing and Digital Technologies at the University of California, Berkeley. Prior to that, he earned his bachelor's degree in Business Management, with a focus on marketing, from the esteemed Istanbul University – Faculty of Business Administration. Currently, he is pursuing a master's degree in Marketing with a thesis at Istanbul Bilgi University.
Erkan has worked for nationally and internationally recognized companies in Istanbul and San Francisco, such as Koç Allianz, Aksigorta, Comcast Spotlight, Simfer, Ziylan Group, LG Electronics, and Aselsan. He has also provided consultancy and strategy plans for many companies and brands, including ESI, Marketing Türkiye, and Arçelik, both domestically and abroad.
Currently, Erkan serves as the Chief Marketing Officer (CMO) at Massive Bio, a New York-based company that conducts research in the field of technology and health. In his role as CMO, he has been instrumental in developing and executing effective marketing strategies that have helped the company achieve its business goals.
Erkan has received long-term technology and international marketing training and certificates from different institutions and organizations such as Microsoft, Ministry of National Education, Google, IBM, Marmara University, Boğaziçi University, and York Trade. He has authored books on Behavioral Marketing (Neuro Marketing, Digital Marketing, Corporate Brand Marketing, Strategic Marketing Plan, Strategic Digital Marketing Plan), Communication Technologies, and Digital Photography. His book "Behavioral Marketing" has been sold in England, the United States, Canada, France, Spain, Japan, Italy, India, Brazil, the Netherlands, Germany, and Turkey.
Erkan's articles on marketing have been published in Capital, Brandmap, Economist, Digitalage, Para, Mediacat, Marketing Turkiye, Export, Entrepreneurship, and Hurriyet. He has also attended numerous conferences and spoken on various marketing topics. During his business period, he won more than 30 awards within the scope of projects. He is currently working on four projects within the scope of digital analysis and improvement systems for Social Media, PR Valuation, Digital Media, and PR&SM integrations. He is currently working on his latest book, "Secrets of Digital Slavery," which will be published by Evil Yayınevi in the near future.